Mia Thompson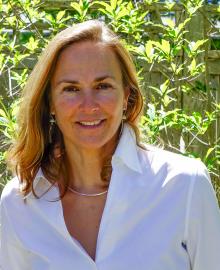 Mia Thompson is Owner, President, and Designated Broker of The Knowles Company in Northeast Harbor, Maine, a real estate agency founded in 1898. Mia purchased the Company 23 years ago and has successfully built upon the founder's strong local traditions and high standards of professionalism ever since, growing an extensive national and international client base and marketing an average of well over $80 million worth of properties per year. She oversees all company operations, financials, real estate and rental activities, directing and coordinating 15 brokers and rental agents, and under her direction the Company has consistently ranked in the top 3 among Mount Desert Island area agencies over the past 20 years.
Long before her career in real estate, Mia was drawn to the sea and sailing. Growing up outside of Philadelphia, she spent long family summers on MDI, and by age five she was sailing her wooden Opti out of Northeast Harbor.  She went on to sail and race every sailboat available at the Northeast Harbor Fleet – and beyond. As a highly competitive college sailor she participated in countless regattas across the country and in Asia, and has since campaigned internationally on everything from J-boats and IODs to Superyachts. In 2008 Mia prepped her own Swan 46 Flying Lady for onboard family living and set off for a yearlong sailing adventure. She home schooled her two sons while cruising the East coast of the U.S., Bermuda and the Caribbean for a full season. Now with a Master captain license, Mia still actively competes in fleet racing and Superyacht regattas all over the world.
Mia is Rear Commodore for the Northeast Harbor Fleet and Chair of the Fleet's Green Team, initiating sustainable best practices throughout the Sailing School, all regattas and the overall operation. A consummate sailor, she is dedicated to stewardship of the sea. One of her current projects is on eliminating single use plastic bags on MDI and throughout Maine – advocating for and monitoring LD57 in the Maine legislature to do just that.
Mia serves on numerous volunteer boards on MDI, mentors and coaches the High School's Girls sailing team, is active in community theatre work and grooming XC skiing trails on MDI, and she still finds time to enjoy hiking, biking, tennis, and all forms of skiing. Raising her two sons with Acadia National Park as her back yard and with excellent sailing waters all around, she finds Mount Desert Island the perfect location in which to live and work.