Volvo Ocean Race Newport Stopover awarded Platinum Level Clean Regatta
Hard work from dedicated volunteers, sponsors and non-profits achieve high level of sustainability at the only North American Stopover of the Volvo Ocean Race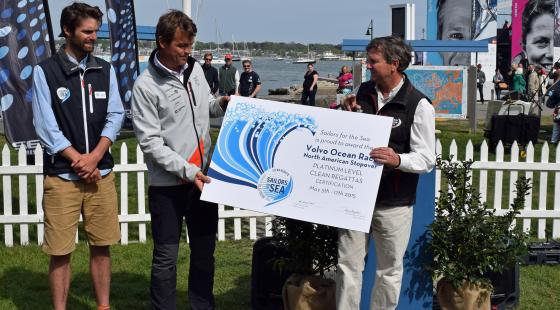 From left to right, Sailors for the Sea Sustainability Director, Tyson Bottenus, Knut Frostad, CEO Volvo Ocean Race and Brad Read, Executive Director of Sail Newport.
Sailors for the Sea, a leading conservation organization that engages, educates, inspires and activates the sailing and boating community toward healing the ocean, announces that the Volvo Ocean Race Newport Stopover, the only North American Stopover of the global race, has received Platinum Level Clean Regattas Certification, the highest level of recognition.
"Preparations to reduce the impact of this event began very early on and I am thrilled to see the level of dedication to sustainability by sponsors and by the host port, Sail Newport," noted Tyson Bottenus, Sustainability Director of Sailors for the Sea. "The team of volunteers that came together to make this certification possible was impressive and I am thankful to everyone whose hard work made this a Platinum level Clean Regatta."
The Volvo Ocean Race Newport Stopover achieved 41 points of sustainability out of a possible 42, as reviewed by an independent committee. The committee consisted of experts in regatta management and sustainability and included Christopher McNally, Esq., Julianna Barbieri, Co-Founder & Managing Partner at Manuka Sports Event Management, and Michael Brown, founder of Packaging 2.0.
A Grand Prix Event Earns the Highest Ranking -- And Sets New Standard for State and Race
"For a grand prix event such as this to be certified at the Platinum Level is quite an achievement. It takes hard work, dedication, and a firm commitment to solid environmental principles to attain this prestigious certification. It has been an honor to work with Sail Newport, Rhode Island Department of Environmental Management, the City of Newport, and 11th Hour Racing on this initiative," said R. Mark Davis, President of Sailors for the Sea. 
"Making the Volvo Ocean Race the greenest large event ever held at a Rhode Island state park has been our goal from the start. Combining a sailing race around the world with a call to protect our world gives this event impact and meaning. I am so proud of our sustainability plan -- and our results to date. We will use this experience to set higher standards in Rhode Island, making an impact by influencing individuals who participate in and plan exciting events at our parks," adds Janet Coit, Director, Director of the Rhode Island Department of Environmental Management (RIDEM).
Since its inception in 2006, over 650 events have participated in the Clean Regattas program with less than 1% achieving Platinum Level Certification. Highlights of the event's sustainability achievements include:
Biodiesel, provided by the National Biodiesel Board in partnership with Newport Biodiesel, reduced the event's carbon footprint by approximately 50,000 pounds. Biodiesel was used in both generators that provided power to the regatta village and will be carried by the individual Volvo 65s.
The world's only "blue carbon" offset provider, SeaGrass Grow!, will provide carbon credits by restoring seagrass beds to minimize the events carbon footprint.
 Education throughout the race village, Exploration Zone and at the Marine Debris Summit focused on the importance of sustainability and how individuals can protect the ocean.
"The Rhode Island based sustainability committee has done an excellent job planning and implementing a wide variety of methods to draw attention to sustainability and also reduce negative environmental impacts to Fort Adams and the planet," noted Julianna Barbieri. "Tyson Bottenus and the entire sustainability committee should be commended for their work in ensuring the Newport stop-over was truly a clean regatta."
Photos form the Volvo Ocean race Village with captions, focused on sustainability can be accessed via Dropbox. Please credit Sailors for the Sea: https://www.dropbox.com/sh/vkvkq9bvv8nvgti/AAA1Fw0nyzxmYCcDQmbln9i6a?dl=0
To learn more about Sailors for the Sea and how we are working with boaters to become catalysts for change visit www.sailorsforthesea.org.
About Sailors for the Sea
Sailors for the Sea is a leading conservation organization that engages, educates, inspires and activates the sailing and boating community toward healing the ocean. Sailors for the Sea is a movement and pragmatic voice for action that offers boaters tangible opportunities to create a legacy and make a difference. Visit www.sailorsforthesea.org to learn more.
About Clean Regattas
Clean Regattas are a vital way to win the race to restore ocean health. One part education, two parts activation, the Clean Regattas program unites and mobilizes sailors by offering support and resources to help heal the ocean. To learn more or join the race to restore ocean health contact Tyson Bottenus (tyson@sailorsforthesea.org) or visit www.cleanregattas.org.