Greening Your Galley
Join Our Green Boating Community
Whether you have a runabout boat or a large cruising vessel, food preparation will play a major role in the enjoyment of your trip.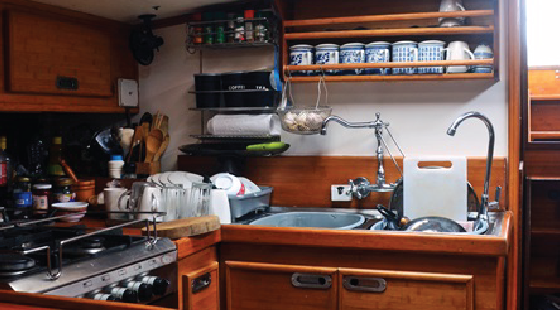 Follow the below suggestions to help green your galley:
Choose cookware and kitchen items that are reusable and will last. Try to avoid anything plastic and/or single use.
Cast iron cookware is made to last multiple lifetimes, is naturally non-stick and lacks the hazardous chemicals found in Teflon. Cast iron can be used on a stovetop, in the oven and on a grill, so less cookware is required. It's also easy to clean with a stiff brush and hot water (no soap necessary).
Stainless steel is 100% recyclable. In fact, over 50% of new stainless steel is made from recycled scrap.
Cook smart and heat smart. Use the smallest sized pan for the task and the correct sized burner ring. Use lids to save energy.
Invest in good quality reusable glass containers – they can also be used in the microwave.
Consider purchasing these types of reusable silicone bags or beeswax wraps to store food, especially if you are worried about keeping glass onboard.
Wooden utensils, bamboo in particular, are a good alternative to plastic as they are durable, don't harbor bacteria and germs and are long lasting. Consider a bamboo cutting board as well.
Use cloth napkins instead of disposable ones.
Purchase and install energy efficient appliances.
Refrigeration and icemakers: Most boat refrigerators run on 12-volt systems and can be run by your main battery bank powered by renewable energy (solar, wind, or water generators) or shore power. Make sure your battery bank is sized for the load, in both a cool and warmer environment. Do not place your refrigerator next to your engine or generator, as it will heat up and require more power to keep cool.
Freezer: Whether you use a freezer box for day sailing or a built-in freezer for cruising, a full freezer is an efficient freezer. Minimize the time you need to keep the door open.
Efficient galley provisioning and organization can minimize waste, and save time and money.
Plan ahead by buying local and in bulk, reducing the amount of waste you produce.
Do it yourself and avoid buying pre-prepared foods – making it yourself is healthier and there is less packaging waste.
Buy items from companies that are moving away from single-use plastic and providing reusable, refillable and zero-waste alternatives.
Purchase and use green cleaning products. Check out our Non-Toxic Cleaning Products for suggestions.
Did you know?
Plastic beverage bottles are consistently in the top five most collected items at beach cleanups around the world, according to the International Coastal Cleanup project.
Watch Now
Learn more about provisioning your boat in an eco-friendly manner and other Green Boating topics in our video series.
Green Boating Guide: