Boating with Manatees
By:
Roger Reep Professor, College of Veterinary Medicine, University of Florida
As a fourth generation Floridian in my seventh decade of living, I am interested in preserving the health of the natural environment for my children and grandchildren. This includes the coastal estuaries that link marine and freshwater environments.
Living in harmony with the natural environment is a challenge in Florida, which has undergone more growth in human population and infrastructure than most other regions of the United States. For several decades this growth has impacted indigenous plant and animal life through habitat loss or alteration, decreased water quality, increases in airborne pollutants, and introduction of invasive species. In the case of Florida manatees, an endangered species, habitat alteration has included harmful algal blooms such as red tide that have resulted in hundreds of sick and dead manatees. These blooms may be exacerbated by groundwater runoffs high in nitrates and phosphorus that are often caused by human activities including septic tank leakage and the use of manufactured fertilizers.
Manatees in Florida deal with motorized boat traffic throughout much of their range. Florida has about 2000 miles of complex coastline involving the Intracoastal Waterway, numerous rivers, creeks, canals, bays, lagoons, inlets, lakes, and coastal islands. Manatees are found in each of these habitats because they feed on a wide variety of aquatic vegetation. The number of registered boats in Florida has increased significantly along with the expanding human population, and is directly correlated with increasing manatee mortality from strikes by boats. During 2008-2012, an average of 88 manatees per year died as a result of boat strikes. Dead manatees undergo postmortem necropsy at the Marine Mammal Pathobiology Laboratory in St. Petersburg, Florida to determine cause of death and to collect other biological data important for understanding population dynamics.
Can manatees detect and avoid boats?
Studies of manatee hearing have been done on wild and captive manatees. In controlled experiments, manatees have been observed to detect and avoid single boats traveling at a variety of speeds, as long as they have adequate time to respond. However, the presence of many boats in one area generates a complicated mixture of sounds that make it difficult if not impossible to detect a specific boat that may pose a threat. Just imagine yourself underwater with five or ten boats moving around nearby!
Reduced speed zones have been implemented at designated locations in 18 Florida counties, focused on areas where manatees are known to be abundant. They include portions of over 20 major rivers, but constitute only a very small fraction of the total amount of navigable waterways used by manatees in Florida.  Depending upon the specific location, restrictions include no entry, idle speed, slow speed, and 25, 30 or 35 mph limits. Some restrictions apply year-round, others during specific months.
The premise of establishing slow boat speed zones for manatee protection is that vessels moving at slower speeds allow both the vessel operator and the manatee more time to respond to avoid a collision. In the event that a collision occurs, less severe injuries occur if a vessel is moving at a slower speed. Even moderate reductions in the speed at which an impact occurs can dramatically lessen the potential for injuries or death since the resultant force of impact is reduced. 
How do boaters behave in slow speed zones?
Several studies have found that only about 60% of boaters comply with posted slow speeds. Not surprisingly, the presence of law enforcement results in greater compliance. However, the number of marine patrol officers is very low compared to what would be needed to have a widespread effect on boater compliance. For now, low boater compliance and an increasing number of boats are two factors that contribute to sustained high numbers of manatees killed by boat strikes. Technological solutions have been proposed, including warning lights to notify boaters of manatees in an area, and sound beacons on boats to warn manatees of boaters in an area. However, in my opinion, if we are to solve the problem of manatees being hit by boats it will be through the technology of the human soul, whereby we learn to live more cooperatively with other species and the natural environment on whose health we all depend.
Spotting Manatees
While traversing waterways known to have manatees it is important to follow speed limits and lookout for these majestic creatures. Have a dedicated spotter on board and looking for large shadows and circular wave patterns left on the surface of the water by the manatee's tail. Polarized sunglasses will help.
One of the pleasures of being in Florida is seeing manatees in their natural habitat, either from your boat, by kayak tour, or on a snorkeling trip in the Crystal River area. The Manatee Eco-Tourism Association of Citrus County is composed of responsible tour companies and strives to ensure that all human/manatee interaction is conducted in a safe, non-stressful, and considerate manner.
We can change the way other people behave on the water by setting a good example through our own behavior. So enjoy boating in Florida and keep an eye out for manatees and slow speed zones!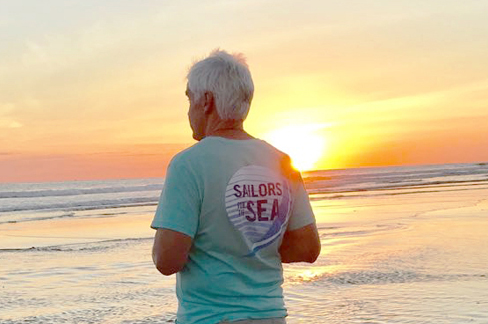 You can make a difference. Follow these steps to create a positive future for the ocean.