D'amy Steward
By:
Hilary Kotoun, Social Impact Director, Sailors for the Sea
Junior Sailor, Outstanding Champion for Ocean Health
At the age of 15, D'amy Steward set out on the adventure of a lifetime. She sailed from Sausalito, California, aboard the research vessel SSV Robert C. Seamans with the Sea Education Association (SEA). For seventeen days and nights, D'amy and the crew conducted net tows over the side and with every tow they found plastic debris. When she got back to shore, she continued her studies at the University of Southern California Wrigley Marine Science Center on Catalina Island, California.
D'amy was furious about the amount of plastic she found in the ocean and decided to do something about it. When she found out about Sailors for the Sea — she contacted us with a bold vision of how she could become an ambassador for the organization.
"The experience aboard the research vessel crystallized my future. I want to help solve the issues related to our oceans and educate people about the importance of taking care of our oceans." – D'amy Steward
Roll Tacks & Research
D'amy recognized that her travel as a junior sailor to over twenty regattas a year made her the perfect person to share the mission of Sailors for the Sea. Armed with her hands-on experience with plastic pollution, D'amy went to work asking every regatta organizer if she could speak at their events about marine debris in the ocean and how sailors can work together to stop this problem.
Standing up in front of peers can be unnerving, let alone facing the people one competes against on the racecourse, but D'amy knew it was necessary to do so for ocean health.
In her time as our West Coast ambassador, D'amy has spoken at multiple national championships, worked with dozens of yacht clubs to run their events as Clean Regattas, and taught middle school students about what plastic pollution is and how they can help stop the problem.
In one of her ever-optimistic reports back to Sailors for the Sea, D'amy noted, "Never under estimate the difference one sailor can make. Please help spread the word!" We may not be able to count the pieces of plastic D'amy has prevented from entering the ocean, but we can feel the boundless energy she brings to the race to restore ocean health.
Passing the Torch
With her senior year of high school upon her, college tours and applications are taking up much of her spare time. However, D'amy is not about to retire her post as West Coast Ambassador. Instead, she's created a way for others to get involved by developing a manual detailing her efforts as an ambassador, along with sharing her presentations and lessons learned so that other junior sailors can replicate what she has done.
"D'amy literally wrote the book on how junior sailors around the world can help protect the ocean. She is a positive force in the world of ocean conservation and I can't wait until the sailing world is filled with ambassadors like D'amy!" – Tyson Bottenus, Sailors for the Sea Sustainability Director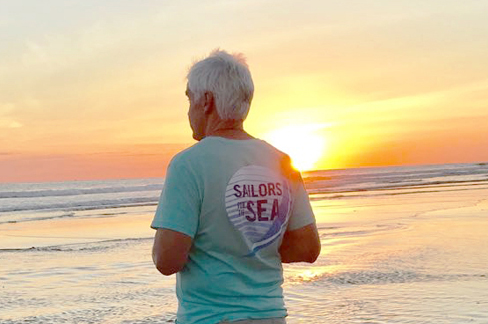 You can make a difference. Follow these steps to create a positive future for the ocean.
Take Action
ELIMINATE your use of single use plastic. A simple way to start is with reusable water bottles and grocery bags!
Take our pledge to restore ocean health by reducing your carbon footprint. We will send you helpful information on how you can help the ocean in your daily life!
Know someone who would make a great ambassador? Send them this article and have them contact us to learn more about the program!