Thirty Years Strong in Barbados
By:
Renata Goodridge, Caribbean Representative, Sailors for the Sea
Coral Reef Monitoring for the Big Picture
Latitude 13°N, Longitude 59°W: Barbados, the most easterly of the Caribbean Windward Islands
As a sailor and mermaid, I love my life!
My GranGran drew me to Barbados as a child, but the sea and her reefs captured my heart when I returned to the island in 1987.
Freshly graduated, my first job was at the Bellairs Research Institute (BRI) as a Marine Technician. It was the start of a 30-year strong career in marine sciences, and I am still reef-deep into it! Life, for me, is a passionate mix of marine science and absolute awe at the underwater wonders I continue to discover and marvel over. So it is no surprise that my hard science is sprinkled with lots of personal experience.
My most favorite project will always be the one where every five years I get to spend a summer diving four days a week for eight weeks straight. It's called the Barbados Reef Surveys Project and it involves surveying almost fifty reef sites along the west and south coasts of Barbados in order to document the nature and rate of changes in coral reef communities. Initially set up in 1987, we perform these dives to investigate possible causes of observed changes in the reef communities. We use this information to help guide and evaluate management and mitigation initiatives for all of Barbados' coral reefs.
The coral reefs here provide critical ecosystem goods and services to the countries of the Caribbean, especially small island states with vulnerable economies who are at adverse risk to predicted future climate change impacts. They play vital roles to support the region's economy. Millions of Caribbean people living in coastal communities have found employment opportunities and food because of these coral reefs. In addition, they also act as a first barrier to wave action, helping reduce coastal erosion. This is a big deal for islands that are annually threatened by potentially catastrophic hurricanes. 
Recognizing the critical importance of healthy reefs to Barbados and the potential for managing and mitigating key stressors, local scientists and the Government of Barbados (through the Coastal Zone Management Unit) committed to a coral reef monitoring programme thirty years ago. They understood that changes in reef communities and their response to management action can only be achieved by long-term monitoring of the key indicators for coral reef ecosystem health.
Each survey begins by creating a 10 meter X 20 meter quadrat on the chosen reef sites and monitoring them for abundance and diversity of hard corals, sponges, gorgonians, macroalgae along with all reef fish species. We added four new sites in 2012, in addition to more research methods such as collecting more information on the size of fish species observed. This year, in 2017, we added several more protocols to better understand the reef dynamics over time, such as coral colony size, photo quadrats, macroalgal heights and coral recruits. The latter three protocols are incorporated from the Global Coral Reef Monitoring Network (GCRMN), which will allow us to better compare our reefs to others using these protocols in the region. This has created one of the longest and most thorough datasets in the Windward Islands of the Caribbean.
Our results have been staggering. The trends for all reef types from the 2012 survey basically show decreases in hard coral colonies, increases in sponge populations, increased macroalgae on most reefs, and a decrease in herbivorous fish species (i.e. fish that eat plant material). The decrease in hard coral colonies we believe is due in large part to coral bleaching. The increase in sponge populations are typical as deeper reefs age. The increased macroalgae is typical as well, but that's because herbivorous fish species have declined due to overfishing.
On the bright side, this year I noted many new coral recruits and plenty of juvenile reef fish species on most reefs. My hope springs eternal that our reefs will rebound once we can keep human coastal disruption and overfishing to a minimum. Overall, our reefs are in pretty good shape, and there are plenty more to explore over and above the 47 we already survey.
However, signs of a bleaching event started just as we were finishing the surveying in early September. Only time and good statistical analysis will give us a better big picture of what's really going on!
My coral reef obsession allows me an outlet for outreach through work which is great as I mostly choose who I work with. Neat outreach projects I work on include training teens to monitor marine water quality through the Coral Reef Ambassadors school programme, and teaching 5-10 year olds about coral reefs by taking them snorkeling for their very first time through Folkestone Marine Park. In addition, I helped to create the volunteer programme Reefwatchers, which monitors seven reefs inside the Folkestone Marine Park on the central west coast of the island.
The Barbados Dive Operators Association (BDOA) has also become very active on reef management. They bring our dive tourism to a new level by running underwater cleanups, lionfish culling derbies, and helping out after severe weather events by re-seating torn up barrel and tube sponges, uprighting overturned coral colonies, and cementing broken pieces into the reef rock. So many of the reefs are used for diving so it is important we keep valuable tourism reefs viable for future users.
Well, 2017 has been my fifth iteration of leading the Reef Surveys field research team. We just finished up surveying the last two reefs as I write this, and I'm already looking forward to 2022! I plan to add old blood to the new recruits – all part of an amazing group of people who have for over thirty years helped create one of the best coral reef datasets in the Caribbean.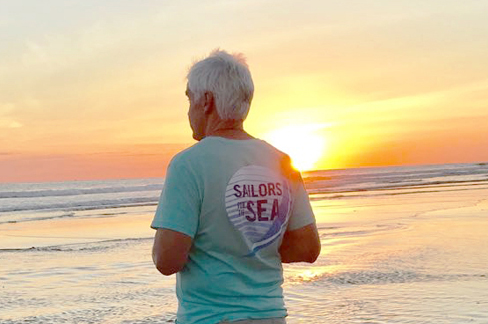 You can make a difference. Follow these steps to create a positive future for the ocean.
Take Action
As visitors to a tropical island, check out what volunteer programmes you can become involved in, such as beach and gully clean-ups, and sea turtle nesting and hatchling release activities.
If diving is your activity, there are reef clean-ups, coral reef monitoring and restoration projects you can get involved with as well.
Share positive, newfound awareness and knowledge of coral reefs with friends and family.
As island residents, we should commit to living our daily lives as sustainably as possible within our small island boundaries.