Sailors for the Sea and Founder David Rockefeller, Jr. Receive Mystic Seaport's America and the Sea Award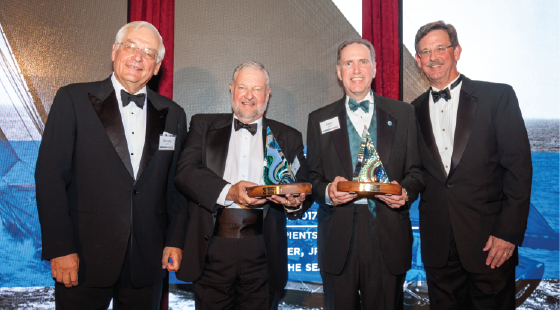 Left to right: Barclay Collins II, Chairman Mystic Seaport; David Rockefeller, Jr., Chairman, Sailors for the Sea; R. Mark Davis, President, Sailors for the Sea; Stephen C. White, President, Mystic Seaport
Newport, Rhode Island (October 19, 2017) – Sailors for the Sea announced today that Mystic Seaport presented its 2017 America and the Sea Award to the organization and David Rockefeller Jr. at a gala held in their honor in New York City on October 11.
The America and the Sea Award recognizes an individual or organization whose contributions to the history, arts, business or sciences of the sea best exemplify the American spirit and character. Presented annually by Mystic Seaport, the award honors and celebrates those who embrace the scholarship, exploration, adventure, aesthetics, competition, and freedom that the sea inspires.
Sailors for the Sea, which was co-founded by Rockefeller, works to engage the boating community in the worldwide protection of the oceans. Through its Clean Regattas and Ocean Watch programs as well as its Green Boating Guide, the organization successfully motivates boaters to become environmental stewards.
"We are proud to recognize the tremendous contribution David Rockefeller Jr. and Sailors for the Sea have made to educate and activate the maritime community in the goal of conserving and protecting the health of our oceans," said Steve White, president of Mystic Seaport. "By forging a connection between boaters and ways in which they can help conserve the environment, they inspire all of us to take better care of the world in which we live."
"Sailors for the Sea and I are incredibly honored to join the illustrious roster of America and the Sea Award recipients," said Rockefeller. "Through this opportunity we look forward to fostering an even deeper collegial relationship with Mystic Seaport, broadening the scope and outreach of both organizations. It paves the way for our two organizations to collaborate more directly on projects that serve our shared ideals, and raise awareness of the issues both organizations hold dear, our maritime past and present and the future vitality of our oceans."
Past recipients of the America and the Sea Award include oceanographer and explorer Sylvia Earle, historian David McCullough, legendary yacht designer Olin Stephens, President and CEO of Crowley Maritime Corporation, Thomas Crowley, philanthropist William Koch, former Secretary of the Navy John Lehman, WoodenBoat Publications founder Jon Wilson, yachtsman and author Gary Jobson, maritime industrialist Charles A. Robertson, author Nathaniel Philbrick, and Rod and Bob Johnstone and their company J/Boats.
About Mystic Seaport
Mystic Seaport is the nation's leading maritime museum. Founded in 1929 to gather and preserve the rapidly disappearing artifacts of America's seafaring past, the Museum has grown to become a national center for research and education with the mission to "inspire an enduring connection to the American maritime experience."
About Sailors for the Sea
Sailors for the Sea, headquartered in Newport, RI, is the world's leading ocean conservation organization that engages, educates, inspires and activates the sailing and boating community to protect the ocean. In 2016, over 1.3 million people engaged with Sailors for the Sea's programs and social media.