Sailors for the Sea Contributes Water Filtration Systems
To Sailing Centers and Yacht Clubs Damaged by Hurricane Sandy
Newport, Rhode Island – July 15, 2013 – Sailors for the Sea, the only ocean conservation nonprofit focused on the sailing and boating community, today announces that thanks to generous donations made during the organization's Welcome Aboard! A Salute to Sailors for the Sea fundraising event 14 sailing centers and yacht clubs in New York, New Jersey, Connecticut and Rhode Island that sustained damage from Hurricane Sandy have received water filtration and refilling systems. Each club identified by the Sailors for the Sea team received a Zip2Water Filtration System in time for the peak of sailing season.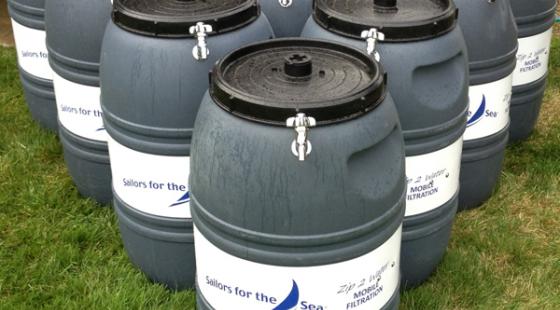 The Zip 2 Water Stations ready for donation to the clubs along the eastern seaboard. 
The water filtration and refilling stations donated by Sailors for the Sea provide sailors an easy way to refill water bottles, while extending the immediate benefits of reducing the trash generated from single-use water bottles and a big step toward cleaner oceans.
The clubs receiving the systems are interested in reducing their environmental footprint and have either already participated in the Sailors for the Sea Clean Regattas program, a third-party certification program that helps participants achieve higher environmental standards, have embraced the Clean Regattas best management practices or are working to incorporate the Clean Regattas program into their sailing programs. Filtration systems can be found at the following yacht clubs and sailing centers:
Atlantic Highlands Yacht Club (Atlantic Highlands, New Jersey)
Pine Beach Yacht Club (Pine Beach, New Jersey)
Shore Acres Yacht Club (Shore Acres, New Jersey)
Toms River Yacht Club (Toms River, New Jersey)
Breakwater Yacht Club (Sag Harbor, New York)
Nyack Boat Club (Nyack, New York)
Richmond Island Yacht Club (Staten Island, NY)
Seawanhaka Corinthian Yacht Club (Centre Island, Oyster Bay, New York)
Cedar Point Yacht Club (Westport, Conn.)
Indian Harbor Yacht Club (Greenwich, Conn.)
Pequot Yacht Club (Southport, Conn.)
Riverside Yacht Club (Riverside, Conn.)
Sound Waters (Stamford, Conn.)
Newport Yacht Club (Newport, Rhode Island)
"Hurricane Sandy was a storm of epic proportions whose devastating damage and loss of life will be felt for years to come. As clubs and centers work to restore and rebuild facilities and programs, we've found the ocean conservation spirit and commitment remains just as strong now as it was prior to the hurricane," said David Rockefeller, Jr., co-founder and chairman Sailors for the Sea. "On behalf of the clubs receiving the water refilling stations, I want to thank the Welcome Aboard! auction guests for their generous donations, support of our efforts to educate and engage the boating community in the worldwide protection of the oceans, and for being a voice for ocean conservation."
Hurricane Sandy, a Category 3 storm, caused widespread damage that affected 24 states, including the entire eastern seaboard from Florida to Maine, with particularly severe damage in New Jersey and New York. The largest Atlantic hurricane on record (as measured by diameter, with winds spanning 1,100 miles), Sandy was the second-costliest hurricane in the United States (as of May 2013 assessed damages top $53 billion, and resulted in 147 direct and 138 indirect fatalities.
"On behalf of the Shore Acres Yacht Club (SAYC) Board of Trustees, we thank Sailors for the Sea for their donation of the water filtration system," said Nancy De Vaarst, SAYC secretary. "As many people are aware the Atlantic seaboard was devastated by Superstorm Sandy. Our club was no exception and is now using a temporary facility for our 2013 season. Currently we are working with architects, engineers, and the town to rebuild by next season, but it is a very slow process. The water system will be a great help to our club for years to come."
Attendees at the Welcome Aboard! fundraising event, held December 3, 2012 at Christie's New York Rockefeller Center Galleries, participated in a live auction and paddle-raising bidding to fund Sailors for the Sea's programs. A portion of the proceeds was used to provide a new resource that gives members of these 15 clubs and centers a means to take an active role in ocean conservation.
About Sailors for the Sea
Founded in 2004, Sailors for the Sea is a nonprofit organization that educates and empowers the boating community to protect and restore our oceans and local waters. For more information, to participate in any of the Sailors for the Sea programs, or to support the organization, visit www.sailorsforthesea.org.