Sailors for the Sea Powered by Oceana Launches Updated Green Boating Guide Amid Boating Boom
COVID-19 pandemic prompts major increase in first-time boat buyers, amplifying need for practical steps to reduce negative environmental impact
Newport, RI – Today, Sailors for the Sea Powered by Oceana released its updated Green Boating Guide during National Safe Boating Week and just before the unofficial start to summer in the United States. The Green Boating Guide is the leading resource providing boaters and sailors with practical and actionable steps to enjoy their time on the water in an environmentally responsible manner.  
Recreational boating and sailing saw a surge in 2020 as people sought socially distant outdoor activities, during the pandemic. Boat sales in the United States reached a 13-year high in 2020 and is expected to remain at historic levels through 2021, according to the National Marine Manufacturers Association. The trend was largely attributed to first-time boat buyers, which made up 34% of all new and pre-owned powerboat customers in the first half of last year, based on data from Info-Link. 
"We are excited to see more people experiencing their local waters, during this difficult time. It's important that we sailors and boaters - especially those new to this activity - be proactive about enjoying our pastime in an environmentally responsible and safe manner; our Green Boating Guide empowers you to do just that," said Dr. Shelley Brown, Director of Sailors for the Sea. "The Green Boating Guide offers boaters simple steps to manage and maintain your boat to preserve the health and abundance of local waterways. Safety and the environment go hand in hand. By making choices to boat in a safe, sustainable, and eco-smart manner, we can help protect the waters and wildlife we love for generations to come." 
Sailors for the Sea's Green Boating Guide addresses 28 different topics that affect all recreational boaters, such as proper fueling techniques, non-toxic cleaning product recommendations, and navigating near wildlife and sensitive underwater habitats. Each topic includes research on the importance of boating in an eco-smart manner, practical tips, and suggested solutions. More than 40,000 boaters have used the Green Boating Guide since it was first published in 2016. 
The new edition of the Green Boating Guide features two new topics, added based on feedback from the boating community. Repurpose Gear provides solutions on what sailors and boaters can do with boating items that have been outgrown or reached their end life, including wetsuits, life jackets, sails and ropes. Prop Scar Prevention offers advice on how to navigate your vessel safely in shallow waters to prevent damage to seagrass beds. 
Visit sailorsforthesea.org/GreenBoatingGuide to receive a free, digital copy of Sailors for the Sea's Green Boating Guide and join the Green Boating Initiative, the world's leading community of Green Boaters taking action to restore the health of our oceans and waterways.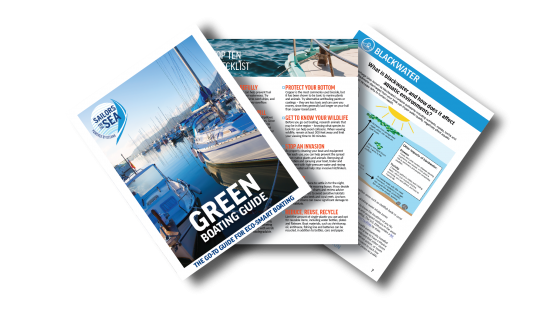 About Sailors for the Sea Powered by Oceana: 
Sailors for the Sea Powered by Oceana is the world's leading ocean conservation organization that engages and activates the sailing and boating community toward restoring ocean health. Sailors for the Sea was founded in 2004 by David Rockefeller, Jr. and Dr. David Treadway, two avid sailors who recognized the importance of educating this constituency of ocean enthusiasts. In 2018, Sailors for the Sea joined forces with Oceana, the largest international advocacy organization dedicated solely to ocean conservation. Combining Sailors for the Sea's goal of educating boaters about marine conservation with Oceana's experience mobilizing supporters to advocate for policy that supports healthy and abundant oceans, the organization is achieving global reach. 
Contact: Shelley Brown, sbrown@oceana.org, 401.846.8900, 449 Thames St. 300D, Newport, RI 02840