The Power of a Green Team
Diane Scully, a member of the Green Team of the Niantic Bay Sailing Academy, is a dedicated Clean Regatta organizer and helps to implement sustainable practices throughout the sailing season. She grew up enjoying the waters of this coastal community in Connecticut and has seen firsthand the changes in ocean health over time. After working with Sailors for the Sea Powered by Oceana last year for the annual Larry White Junior Regatta, which received Bronze Level Clean Regatta Certification, she is hoping to up their game this summer with an even higher level of Clean Regatta Certification. Additionally, she hopes to encourage all of the Niantic Bay Yacht Club's adult events to become certified Clean Regattas as well. Paige Myatt, Sailors for the Sea's Program Manager, had a chance to interview Diane about her experience as a Clean Regatta organizer: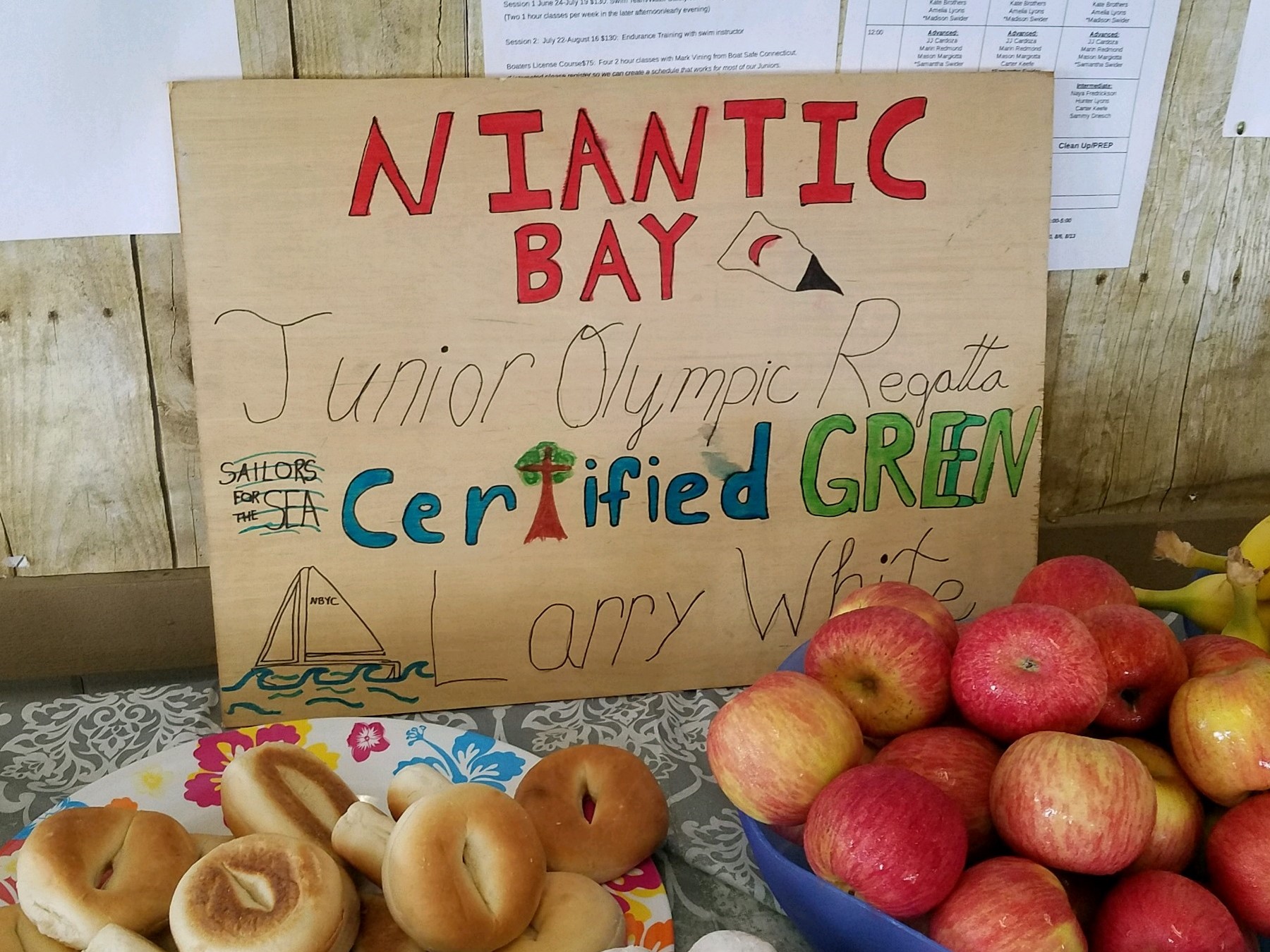 Paige Myatt: Why are you passionate about protecting the marine environment?
Diane Scully: I feel that now is our chance to do something to stop plastic, chemical and discharge pollution that is contaminating our oceans and disrupting the fragile animal and plant life that depend on a healthy ocean and beach. I also feel that our young sailors need to put to practice what they have learned about protecting the environment in school and extracurricular activities.
PM: What are some of the high-level successes you have had in terms of making the event(s) more sustainable?

DS: Niantic Bay Yacht Club will be hosting its second Clean Regatta this summer. We have had and hope to continue hosting presentations on plastic pollution and waste management followed by a green reception. We have also crafted a mission statement for the Niantic Bay Sailing Academy to protect our natural resources. Being a Clean Regatta has also led to the formation of the "Green Crew", whose members facilitate the collaborative green efforts among various NBYC committees. Our Green team applied for and received a grant from Dominion Milestone for a water bottle re-filler, which will be installed when the club house is renovated.
PM: Are there any small changes you have made that are having a big impact?
DS: Definitely! Last summer, the social event planners began consulting with our Green Crew when planning a party. People have started to bring their own glasses to parties to reduce the use of plastic cups. At award dinners, the club's reusable aluminum utensils replaced single-use plastic utensils. Paper straws are now behind the bar and available by request only. We had a green reception and demonstrated to other party planners that it is possible to have a fun party with delicious food and drink and only generate a half a can of waste. Additionally, we have been able to donate almost $2,000 worth of recyclable cans and bottles to the high school marching band's fundraising efforts.
PM: Have any of these changes carried over to different events or become permanent changes at the club?
DS: That is the goal this year. We are hoping that by sharing resources from Sailors for the Sea, other regattas will follow the Clean Regatta Best Practices. We hope that more people will bring their own glasses to parties this year. The Green Crew continues to be very active and committed to making positive changes throughout the club.
PM: Have people been supportive of your efforts to go green?
DS: Mostly, and this is improving.
PM: What are the reactions of sailors, club members, and others that attend a Clean Regatta?
DS: They seem to appreciate it. The club's board members seem proud of our efforts after the regatta or event.
PM: What are some of the challenges you have faced and how did you overcome them?
DS: Our goals were big last year. We were hoping to have a recycling program but found out that recycling only cans, bottles and cardboard was realistic. We unfortunately still have a lot of waste going to the landfill. Another problem was finding a way to keep lunches dry on the water during our junior regatta. We found biodegradable sandwich bags, but it was very rainy, and the lunches became soggy and ruined. For snacks, fruit was easy. We tried to find a granola bar company that would take back wrappers but couldn't find one.
PM: What new sustainability initiatives do you want to achieve this year?
DS: We want to more consistently put a sustainability tip from the Green Crew in our newsletters. We also want to work on waste receptacle signage and consistency with universal colors for these bins.
PM: Do you have advice for other Clean Regatta organizers?
DS: It is really important to have a committed, active green team. We are lucky to have a wonderful committee. Hosting a Clean Regatta was easy with a little bit of planning. Get the kids involved! They are natural environmentalists and have learned about conservation in school. Establish a few practices at first rather than try too many and not have consistency. Communicate with board members and all committees of the club. Call Sailors for the Sea with questions because they are really helpful!
Thanks to Diane for her time and insight into hosting a Clean Regatta! If you are looking to host an event - you can get started here!