Join our crew
We are hiring a Sustainability Director!
We are looking for an enthusiastic, ocean loving crew member to join our dedicated team working with boaters to protect the waters we all love. The Sustainability Director leads up the Clean Regatta's program, the only sustainability certification program for water based events in the world. The job is based in Newport, RI.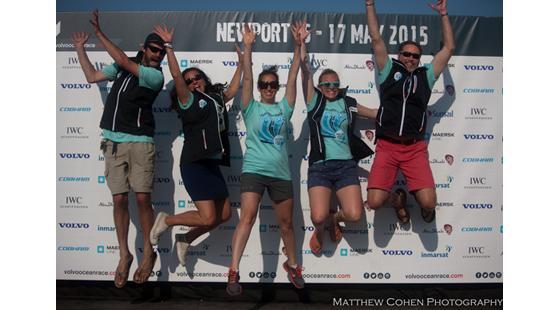 ​If you can imagine being this excited about a Platinum Level Clean Regattas Certification for the Volvo Ocean Race Newport Stopover - then you might just be the right person for the job. Photo credit: Matthew Cohen Photography
Continue reading for details on how to apply, job requirements, and most importantly, the deadline for applications is November 16th.
General responsibilities will include:
Overall management of the Clean Regattas program
Contribute content to Sailors for the Sea website, monthly e-newsletter and social media
Coordinate with Social Impact, Stewardship and Education colleagues as needed
Track and report program usage, challenges and successes
Create and maintain relationships with relevant NGOs that might facilitate the Clean Regattas program
Keep up to date on relevant ocean health topics along with any other pertinent scientific and political changes
Engage the boating community at all levels to become ocean stewards
Facilitate Sailors for the Sea's image as an industry source for sustainability content
Foster long-term sustainable change in communities through outreach with local partners
Support international affiliates sustainability efforts through counsel and training
Clean Regattas Responsibilities
Outreach to new and repeating participants in the Clean Regattas program
Continuously research and develop Clean Regattas resources, best practices and other support materials
Provide phone, email and in-person support to registered Clean Regattas
Travel to attend select regattas around the world to promote Clean Regattas and Sailors for the Sea (up to 30% of time)
Maintain Clean Regatta database
Follow up with completed regattas gather reports, and issue certifications
Gather and develop metrics to measure success of Clean Regattas
Position Requirements:
College degree in sustainability, science or science education
Knowledge of the sailing and boating communities
Ability to travel as required in the U.S. and overseas
Ability to work out of Sailors for the Sea office in Newport, RI
Ability and willingness to work occasional weekends
Valid Driver's License and Passport
Strong attention to detail and refined organizational skills
Experience with and working knowledge of sustainability and environmental best practices and frameworks e.g. ISO, GRI, etc.
The ideal candidate will have:
Sailing/Boating experience
Passion for ocean stewardship
Experience working with and/or teaching youth and working with the public
Experience with and implementation of marketing and advertising strategies
Strong social media skills
To apply send a combined cover letter and resume to resumes@sailorsforthesea.org. Application submission will close November 16, 2015. The candidate will be able to start in late December in the Newport, RI office. This position offers a full time salary and benefits. No phone calls will be accepted concerning this position.