Sailing World Cup Miami
Full of excitement, knowledge and passion - not only for sailing, but also our environment!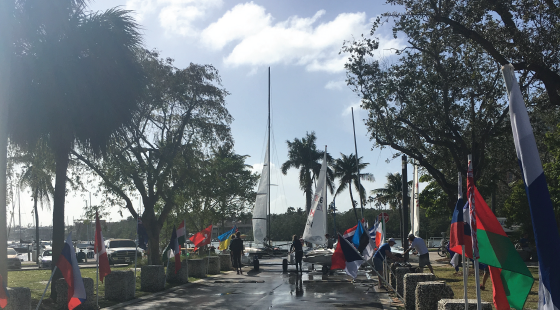 Hailing from 50 nations, more than 540 sailors competed in Sailing World Cup Miami, a Silver Level Clean Regatta, in late January. This event is an exciting lead up to the Sailing World Championships in August, which will be the first opportunity for these sailors to qualify for the Tokyo 2020 Olympic Games. Prior to the event, the US Sailing Team removed nearly 2,500 pounds of debris along Coconut Grove's shoreline. Check out their amazing efforts to protect the waters they sail on!
As part of the event, Sailors for the Sea was invited to participate in the US Sailing Education Zone alongside US Sailing and University of Miami's Rescue a Reef and Canes on Canes programs. Many youth sailors and families attended the event to watch sailing and to learn about their local environment. We showcased our newest KELP activity – Coastal Matching – which was a big hit with kids and adults alike!
How to set up Coastal Matching?
Download the free activity from our KELP page.
Print 16 pictures (4in by 4in) of items or marine life you may find along your coast, such as a pelican, mangroves and a plastic bag. The KELP activity includes all of the pictures, but you can also use your own. 
Tape or glue the pictures to a poster board or piece of wood (20in by 20in) in a four by four pattern.
Print out clues for each picture (4in by 4in). Again, the KELP activity includes clues for each picture, but you can create your own too!
How to play Coastal Matching?
Read the clue cards out loud.
Have the students match the clue card with the image on the board.
The goal is for the students to get four in a row. Bonus points if the students can fill the whole board!
Visit our KELP page to download this game or for other fun activities focused on marine science.