Science at SEA
Learn how our OBR, Alex, does science on a tall ship!
Our Onboard Reporter, Alex, has been depolying scietific gear and collecting important data as she sails on SEA's tall ship Corwith Cramer.
Deploying All of the Nets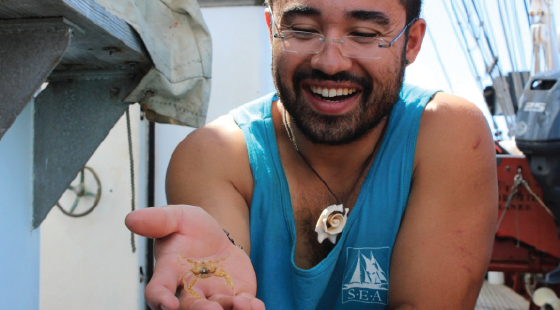 We have officially completed every type of science net tow as of this afternoon! In one of the dipnets, we found a crab. Grayson, the mobile fauna expert onboard, has been helping us categorize the species we have found and so far this is the coolest organism (at least in my opinion). We have been brainstorming ways to make hydroids and microbes look as cute as this little crab in order to help bring public awareness to the Sargasso Sea. Any ideas?
Heading Toward Clear Skies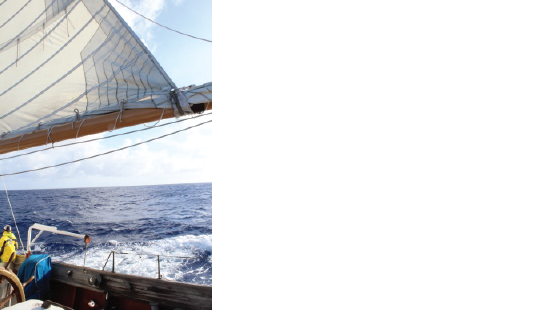 After a very long stormy night, the lightning has finally gone and the heat wave has broken. Perfect timing since we had field day today aboard the Corwith Cramer, where we spent two and a half hours cleaning from fore to aft. The ship has never felt so large and I had no idea there were so many different places for dirt to hide. We are motoring all night to try and head East and beat the tradewinds but are still expecting clear skies tomorrow.
Deploying Science Equipment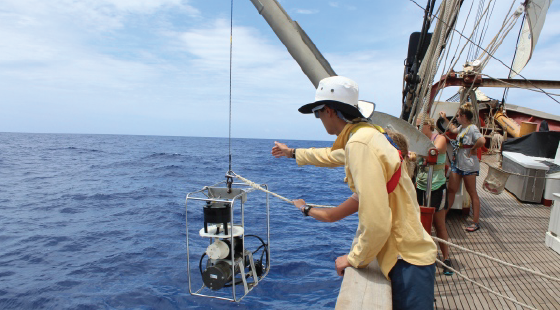 Let's talk science!  So much of what we do in Marine Biodiversity and Conservation is science-based. We are actually the most science heavy program through SEA. Every morning we have a multiple science deployments including this photo of the McLane pump. My shipmate Geoffrey is working on a research proposal about microbes and this McLane pump gathers information about salinity, pH, chlorophyll, and collects the gDNA for the microbes in the Sargasso Sea.
Marine Talk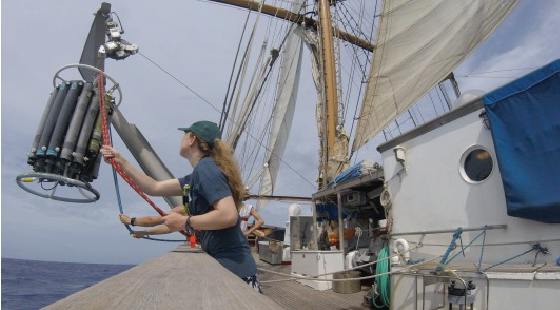 Day 2 of science week! My favorite part of morning science deployments is the hydrocast. The hydrocast collects water at different depths to look at chlorophyll a at various depths. There is also a CTD Sensor (Conductivity Temperature Depth) that builds a profile of what the water column looks like overall. We had to learn how to "scallop" the bottle lids; which is important but also I think just a fun way for more marine talk on the boat!
Checking out the Microbes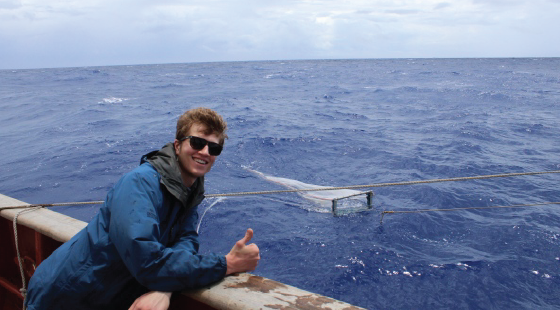 Day 3 of science week! Another deployment we do on the Corwith Cramer is the Neuston Tow. We do a Neuston Tow twice a day (once at 1130 and again at 2330). The Neuston Tow collects zooplankton to measure diversity in the Sargasso Sea. We measure and sort the Sargassum types then filter out larger animals and plastic pieces to then do a 100 count of the microscopic organisms in the water.
Buckets of Seaweed
Day 4 of science week! Every day our wonderful lab hand Helena collects at least five buckets of Sargassum for us to sort through called "dip nets". She tries to collect different types (Natans versus Fluitans species) as well as different size clumps in order for us to get a better idea of what really lives in the Sargasso Sea. After categorizing all the data, we sort through the mobile fauna and hydroids on each bucket for our long-term research projects.
Stay tuned for more updates from our Onboard Reporter, Alex!
In collaboration with Sea Education Association (SEA), Sailors for the Sea is offering an award for a SEA Semester student to become an Onboard Reporter. SEA is an internationally recognized leader in undergraduate ocean education through their study abroad program. As a recipient of the new Sailors for the Sea Onboard Reporter award, Alex Merkle-Raymond is chronicling ocean health issues observed during her voyage aboard the SSV Corwith Cramer, one of SEA's tall sailing ship research vessels, in the Caribbean. Alex is a third year undergraduate student at Northeastern University.