Skippers Volunteer Program Welcomes Five More Sailing Leaders
This past summer Sailors for the Sea Powered by Oceana launched its volunteer Skippers program. While originally designed before the coronavirus pandemic, where we envisioned Skippers representing Sailors for the Sea both locally and at events, our initial group of eight sailing leaders adjusted their sails. They focused on engaging their communities at home by leveraging social media and online communications to help mobilize the boating community and broaden their reach. Seeing their success, we were able to grow the program this fall and have accepted five new Skippers into the group.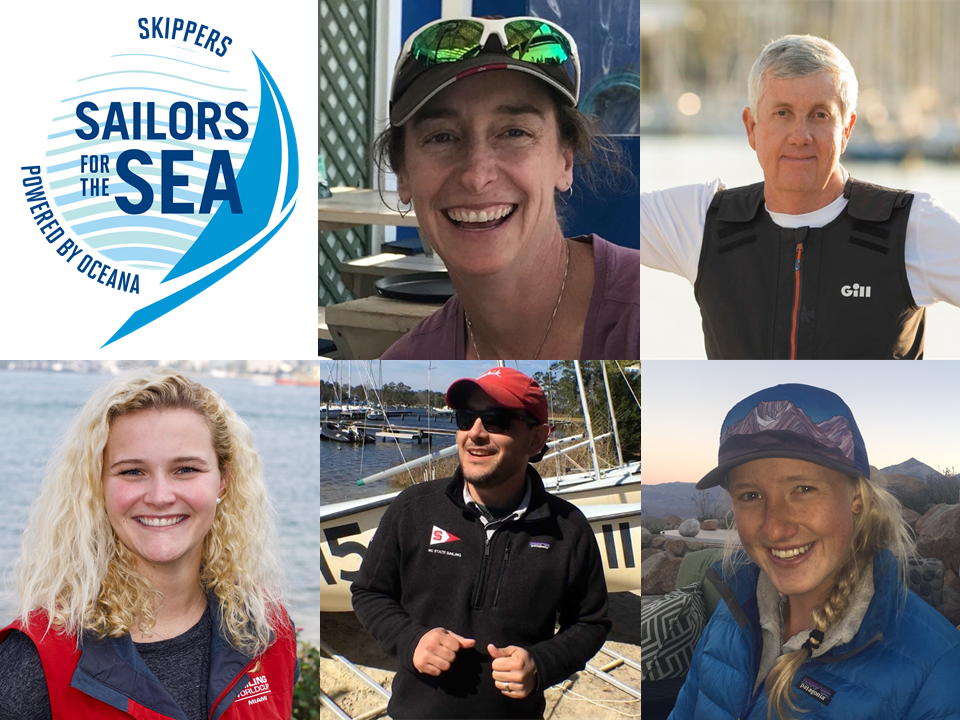 Top Row: Chris Wolfe, Chris Snow / Bottom Row: D'amy Steward, Dana Magliola, Jessie O'Dell
We have expanded to the West Coast and Southeast, welcoming Dana Magliola (Raleigh, NC), Jessie O'Dell (San Francisco, CA), Chris Snow (San Diego, CA), D'amy Steward (Coronado, CA), and Chris Wolfe (Orcas Island, WA). These leaders are diverse in skills, knowledge, and reach and we look forward to introducing them to you.
Magliola, sailing coach for NC State says, "Today, as a coach and an active leader in college sailing, I recognize the opportunity we have to build a respect and love of the water in our student-athletes. It's a part of the culture we've built in our program at NC State and across the South Atlantic Intercollegiate Sailing Association conference. Sailors for the Sea has been a reliable partner in our efforts, providing resources, education, guidance, and best practices which we can apply to the unique college sailing environment. I firmly believe that having respect for the health of our oceans and waterways allows us to preserve what we love about college sailing for future generations."
Wolfe, a lifelong environmentalist and sailor, is an active member of a unique coastal community in Washington working to protect the ocean and its inhabitants. She is a board member of Sail Orcas as well as Friends of the San Juans.
Steward is not a new face to Sailors for the Sea. She was a West Coast ambassador, representing the organization through her high school years. Now a graduate of Duke University having majored in Biology and Environmental Science, D'amy is back representing Sailors for the Sea and making an impact in her local yacht clubs, where she has been spreading Sailors for the Sea's work for over six years.
O'Dell, an environmental scientist, knows just how dire the need is to protect our oceans. She is a Brown University sailing alum and is back home on the West Coast, working with various clubs to grow our Green Boating community.
Snow was a sailmaker for 35 years. He and his whole family are active in the sailing community. He believes, "The world's oceans are being overused and abused. If we don't step up to take care of them then who will?".
Sailors for the Sea's Skippers are all intimately connected to the oceans and well equipped to influence their communities to make greener decisions, both on and off the water. We are excited to have them onboard!
If you are a leader in your sailing community passionate about our conservation work, we invite you to submit an application. Sailors on the Great Lakes (Chicago area) and those living in Florida are especially encouraged to apply. Apply to become a Skipper