On the Water Boat Cleaning Earns Outstanding Green Boater Award
By Rob Howie, Sailors for the Sea Skipper for Marblehead, Massachusetts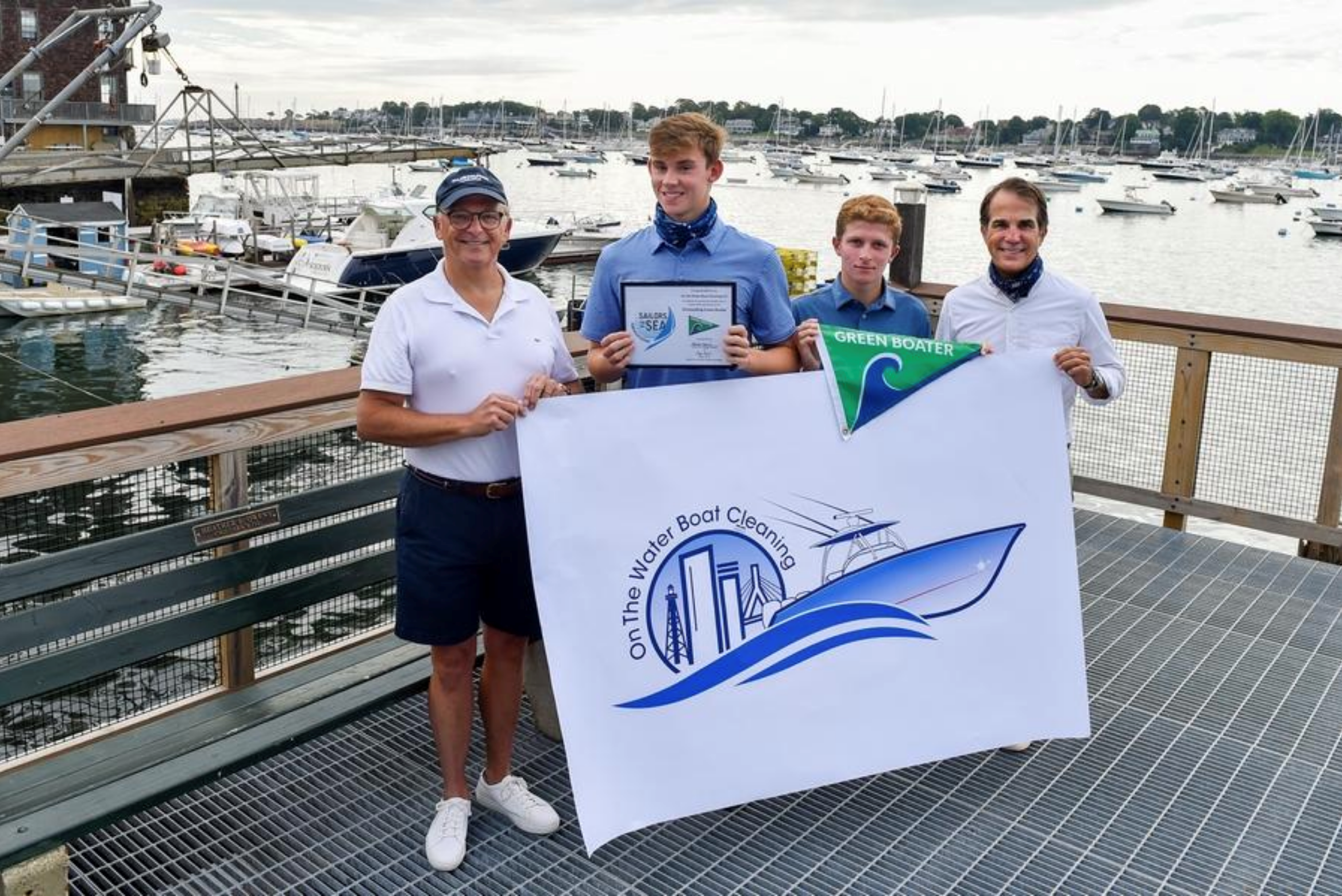 Skipper Rob Howie (left) presents an Outstanding Green Boater award to Brian Coleman and Noah Kaplowitch of On the Water Boat Cleaning LLC while joined by Sustainable Marblehead's James Ashton (right)
Sailors for the Sea Powered by Oceana presented On the Water Boat Cleaning LLC with the first-ever Outstanding Green Boater Award for the company's commitment to using only environmentally-friendly cleaning products. This award recognizes boaters who commit to more eco-conscious practices in a variety of areas including preventing pollution, eliminating single-use plastics, using eco-friendly products, protecting marine wildlife. It is the first time Sailors for the Sea has recognized a business for their green boating efforts.
On the Water Boat Cleaning was started in the summer of 2014 by two then-eleven-year-olds, Brian Coleman and Noah Kaplowitch. To keep busy, they began washing their parents' boats, often puttering around Marblehead Harbor on Noah's Whaler. Other boaters observed the young men cleaning boats on the dock, and a family friend asked Brian and Noah if they would be interested in cleaning his boat. Very quickly, through word of mouth, strangers began to approach them about cleaning their boats as well. They developed a regular customer base by branding their services and dropping off business cards to local businesses. On the Water Boat Cleaning LLC has now increased its customer base throughout Massachusetts' North Shore, Charlestown, and Boston.
The young entrepreneurs, now 17, are rising seniors at Marblehead High School. Along with their crew, Brian and Noah spend hours a day, seven days a week, detailing boats and keeping them looking as best as possible. At the same time, they said, "We strive to do the same for the harbor and the ocean. Marblehead has one of the finest harbors in the world, and we want to keep it that way. Using environmentally friendly products helps maintain the harbors, ocean life, habitats, and the many ecosystems that surround our community. These products also allow us to clean boats gently and safely, ensuring that we are meeting the expectations of our customers."
They encourage others in the boating and sailing communities to use environmentally friendly products and to consider the natural resources that come from our oceans. "We would like to connect environmentally friendly boaters with other boaters so they can exchange ideas, information, and boating services and products that also protect the environment through the use of green products." The boys see boating safety as a parallel effort. "We think about it in the same way we observe best practices for safety. We make sure we have every safety measure checked off when we use our boats, and we do the same for environmental safety."
On the Water Cleaning is partnering with HarborMoor, and Sailors for the Sea is supporting their efforts to connect conservation-minded individuals and expand the community of Green Boaters. HarborMoor is Marblehead's premier online boating community celebrating the people, boats, and service providers which make Marblehead a world-renowned sailing capital. It includes a directory of all 2,000 boats in Marblehead Harbor where members can claim and manage their boat profiles, add basic information, and upload photos, in addition to liking and commenting on other boats in the harbor. Owners who are certified as Sailors for the Sea Green Boaters display the Green Boater burgee as part of their boat profile on the HarborMoor site. "At present about 40 Marblehead Harbor boat owners have earned the Green Boater designation," says Rob Howie. "By flagging those boats online, we hope to increase awareness and continue to grow this community focused on protecting our ocean."
To learn more about On the Water Boat Cleaning's eco-friendly and sustainable practices, click here. To learn more about how you can become a Green Boater, click here.