5 Tips for Greener Living Aboard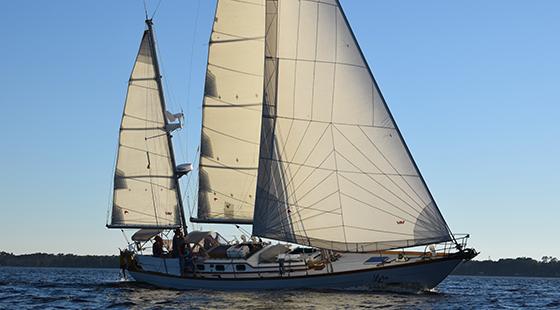 Lyra, under full sail
Life aboard a boat is already pretty green, which is one of its appeals. When you're away from the dock, every resource is limited and must be somehow generated and/or stored on the boat, and everything going out, like trash and waste, needs to have a plan. Modern land-bound life rarely necessitates people having to think about any of these things. On a boat though? It's all much more intimate and immediate.
In my years of living aboard Lyra, our Reliance 44 ketch, with my husband and kids, I always appreciated the "built-in" eco-friendliness of our life, and over the years, implemented more green habits where I could. Here are a few:
Make your own all-purpose cleaner
I'll admit that for me this was born out of necessity, but then I started to prefer what I made to what I could buy in the store. When you're cruising, it's way easier to find space to stow a jug of vinegar than multiple bottles of cleaner (not to mention cheaper). Reusing a plastic spray bottle many times? Even better.
Most commercially available cleaning products are not made to be directly released into our waterways. Ingredients in certain cleaners can damage fish tissues or persist in the environment and enter the food chain. Some products also contain phosphorous and nitrogen, which can put excess nutrients into the water causing algal blooms which can be harmful to coral reefs and coastal ecosystems.
Making your own cleaners is easy, and you likely have the ingredients already on hand. Take a look at some recipes for deck cleaner, fiberglass stain remover and more, and try my all-purpose cleaner recipe for use in the galley, head and throughout the cabin: fill a spray bottle with half water and half white vinegar, add about half a teaspoon or so of castile soap and several drops of tea tree oil. Tea tree oil is great to have on a boat and can really help kill and prevent mold, which can be a constant battle in humid environments.
Choose long-lasting cookware
Making pancakes underway in a cast-iron skillet
Don't outfit your galley with poor quality cookware that will only last a season. Preparing simple meals (or elaborate, if that's your style) aboard to enjoy while watching the sunset is one of the best parts of being on a boat—and it's way more fun if you like your cookware!
On Lyra, less was truly more, and my go-to items included a cast-iron skillet (yes, you can have cast iron on a boat. Keep it well seasoned and take care of it and it will last you a lifetime), several sizes of enameled cast-iron pots, wooden spoons and spatulas and a stainless-steel pressure cooker. All these items have been in near daily use for pushing 20 years and are still going strong.
Other items to consider having aboard are a supply of cloth napkins, plenty of reusable bags and water bottles, and sturdy dishes. Many cruisers like Corelle since they stack well and are chip resistant. However, when they break—watch out—they splinter. Stoneware or regular porcelain have worked well for me over the years, and some liveaboards go the route of unbreakable melamine dishes instead.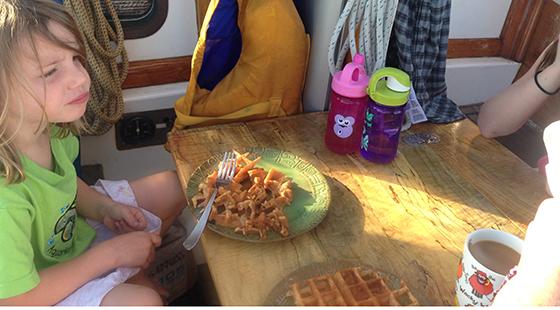 Breakfast in the cockpit, no disposables needed
Install a water filter
If you're going to be spending lots of time on your boat, think about your water situation. By cleaning the fresh-water tanks and installing a water filter, you can have good, drinkable water right out of your galley sink instead of lugging aboard plastic gallon jugs (or worse, many single-use bottles).
Aboard Lyra we installed a basic filter housing on our cold-water line that could take a 10-inch filter cartridge. The parts for a system like this are affordable and available at just about any hardware store, and installation options are very flexible. Another option is to install a dedicated water filter with its own tap for drinking and cooking water. Two popular options include the Seagull Marine Water Filter and the PureWater+ system.
Repurpose old gear
What do you do when your foulies no longer keep you dry like they used to? Or you've just replaced your running rigging and have a pile of old, but still useful, line? Get creative and find a way to repurpose it! You'll gain something useful and keep things out of the landfill. Need inspiration? Check out what this clever sailor did with her worn out foul weather gear and old sails. Even more ideas here!
Skip the generator
Even a modest solar bank can keep up with most power demands aboard
As cruising boats have become more system-heavy, so too have their power needs. Portable generators and installed gensets seem to be the norm—but they don't have to be. Fortunately, alternative means of generating electricity have become more reliable and less expensive over the years. Battery technology, has come a long way as well.
When outfitting your boat, be selective with your systems and factor in power draw. Assess your boat's power needs (there's a good explanation here) and size your battery bank accordingly. On most cruising boats, refrigeration is the largest power drain. Fortunately though, even a modestly sized solar bank and/or a wind generator (depending on where you sail) can keep up with most modern refrigeration systems. Even with full-time living aboard, on most days, Lyra's two solar panels would keep up with our demands, and if we were in the trade winds, the wind generator more than kept up.
Enjoy finding more ways to be eco-friendly aboard your boat! Have you come up with some creative solutions? We'd love to hear about them!