Caribbean Sailboat Racing in the Time of COVID
By Renata Goodridge, Sailors for the Sea Caribbean Representative
The Caribbean sailing community is accustomed to facing challenges from hurricanes to seaweed inundation to droughts. The COVID-19 pandemic, however, continues to pose a new obstacle to competitive racing and the 2020 Caribbean regatta season.
The Schoelcher International Sailing Week in Martinique and the Sint Maarten Heineken Regatta, both active in the Sailors for the Sea Powered by Oceana Clean Regattas program, were the last major regattas held before the pandemic caused the Caribbean region to go into lockdown. Measures to slow the pandemic's spread and protect the health and safety of local communities prevented most non-residents from flying into the islands or sailing to their shores. This left adrift the St. Thomas International Regatta, BVI Spring Regatta, Les Voiles de Saint Barth, Antigua Sailing Week, ANR Tobago Sailing Regatta, and countless smaller club regattas, club racing and sail training.
Staying connected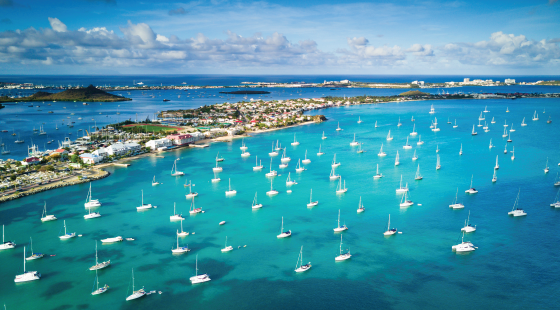 In late March, the Caribbean Sailing Association (CSA), under the leadership of President Alison Sly-Adams, took action to help the sailing community stay connected during the pandemic. The CSA Board met and sent out a message to all members to use the lockdown period as an opportunity to reflect on their individual sailing programs and how to best move forward when everyone is able to travel once again.
Since early April, the CSA has hosted virtual meetings with members, which have largely focused on safe sailing and sail training in the time of COVID. New, simple procedures seek to ensure that the sailors, coaches, and other staff are protected from potential infection. As part of the guidelines, the CSA recommends one of the Clean Regattas Best Practices, which is cleaning and sanitizing sailing equipment with environmentally friendly products and cloths to protect coral reefs and local marine life from toxic chemicals. General template protocols for reopening were developed and shared with the CSA members, in which each sailing center, yacht club or marina can modify to their country island's mandates. Most sailing centers could not individually bring the administrative knowledge and capacity that the CSA Board and its members brought to the table.
Grassroots sailing
With international events being cancelled or postponed and decreased travel to the Caribbean, the pandemic has also led industry leaders to focus on sailing in their local communities.
"We have an opportunity to start working on our grassroots sailing programs and club racing," said Alison Sly-Adams. "At some point, we may be in a situation where the Caribbean is ready to open but our source markets are not. This time can be used to effectively generate interest in our dinghy programs. Single-handed racing is a great way to self-isolate! We can also focus on motivating young sailors to stay engaged in the sport."
Many clubs are using this time to increase participation in the sport of sailing with local youth sailors. Sailing can be a socially distant activity, as well as an opportunity to connect with nature that can be a positive activity for both the mind and body. Sailors for the Sea continues to support such efforts to engage youth around sailing with the Kids Environmental Lesson Plan (KELP) program. During the pandemic, staff developed a video series of KELP activities that can be conducted in a socially distant manner and shared with sailing partners. The CSA promoted the KELP program as an beneficial resource to be used as part of youth sailing programs to educate kids on issues that impact our oceans. On St. Kitts and Nevis, the Nevis Aquatic and Sailing Center utilized KELP activities focused on coral reefs as part of their summer camp program.
Looking toward the future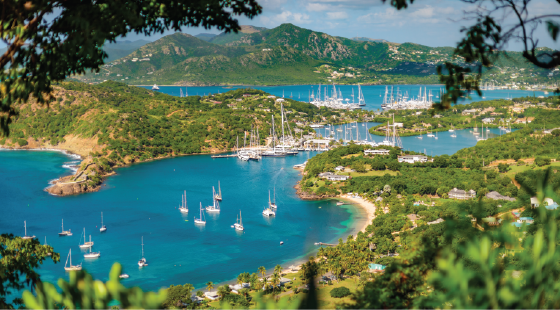 Many Caribbean islands rely on the marine industry's economic benefits, and the sailing community is in a good position to help recovery when events recommence as these regattas bring thousands of visitors to the islands which can help support local livelihoods. As sailing slowly begins to resume across the Caribbean, boaters also have an opportunity to be a powerful voice for change to protect our oceans.
The BVI Spring Regatta, which has been a model Clean Regatta for over a decade, was originally planned for early April and recently rescheduled to late October. Every year, this event adds innovative sustainability and outreach initiatives to reduce its environmental footprint and positively impact the local community. In 2019, the BVI Spring Regatta used materials from hurricane damage for regatta awards and skippers bags were made from recycled sailcloth. Sailors for the Sea Powered by Oceana continues to work with our partners throughout the Caribbean to build a network of Green Boaters who are taking action to combat plastic pollution, protect wildlife and preserve marine habitat.
Take Action: Join a global network of active, engaged ocean champions within the sailing and boating community who are stepping up to save our oceans. Sign up to become a Green Boater today!